Investigating food trends for 2023 is an exciting idea due to the steady changing habits regarding what people want to eat. It is crucial to make sure your food is on a healthy note because, as we all know, buying and cooking food is more affordable and dependable for everyone.
The majority of the items that are going to be explained are suppers, including meals made with pasta, chicken and seafood dishes, and beef recipes. Since each serving of meat you eat contains a healthy quantity of protein, meat is essential to your diet. Since it might be difficult for people to control their sweet craving, several healthy sweets will be addressed as well. Vegetables will be mentioned last but certainly not least because it's vital to consume your greens.
Check out the list below to discover what foods are well known in 2023 if you're looking for ideas for lunch, supper, or just some meal suggestions for a healthier lifestyle.
Healthy Food Trends in 2023
1. Chicken Breast With Broccoli
Chicken breast is definitely one of the best healthy foods you can make with any side dish you can even think of, but broccoli might be the best side! Whether the chicken is baked or grilled followed by seasoning it very well, you'll never get tired of it. Chicken is also a good source of protein followed by having the perfect nutritious benefits such as vitamin B and C.
Broccoli has advantages for your heart, bones, brain, and general wellness. Bioactive substances found in broccoli can help prevent some types of cancers and tissue inflammation. Additionally, broccoli promotes good digestion, lessens constipation, and helps with weight reduction.
2. Pasta
Pasta is a very adaptable food that goes well with a variety of sauces, meats, veggies, and seasonings. It appeals to both home and professional chefs since it offers limitless opportunities for innovation in the kitchen. Pasta is a practical option for busy people or families because it is also quite quick and simple to make. Many individuals lead hectic lifestyles, so they might look for recipes that are tasty and quick to prepare.
Pasta is sometimes an inexpensive item that can be bought in quantity, making it a cost-effective option for many homes. People may seek for inexpensive dinner alternatives during difficult economic times, and pasta offers a satisfying and affordable answer.
Across all cultures and geographical boundaries, pasta is a much adored food. It relishes in many different ways, from traditional Asian noodle meals like ramen or stir-fry noodles to Italian favorites like spaghetti and ravioli. Its sustained success could be influenced by its universal appeal.
3. Boiled Eggs
Boiled eggs have wonderful source of protein, beneficial fats, vitamins, and enzymes. Boiled eggs are a healthy food choice. They can be used in many recipes. For example, they can be eaten as a snack or added to salads, sandwiches, or wraps. They can also be used as a garnish for foods like soup or seafood boils.
Eggs may be cooked in a relatively simple and quick manner by just boiling them. They are simple to create in big quantities and keep for longer periods in the fridge. Because of this, they are a well-liked alternative for meal planning or as a convenient grab-and-go food.
4. Shrimp Scampi
Shrimp scampi is renowned for its mouthwatering tastes and ingredient medley. The flavorful shrimp, cloves of garlic, butter, lemon zest, and spices come together to provide a rich, delicious meal that will please a variety of people. A favorite seafood due to its flavor and advantages in terms of nutrition, shrimp is very low in calories and its abundant protein choice, making it appropriate for people who are concerned about their well-being and want savory yet nutritious dishes.
Shrimp scampi may be modified to meet different dietary requirements and tastes. It may adapt to multiple types of meals and cuisines by being distributed over rice, pasta, or crispy bread. Its popularity heightens by how it also takes a few ingredients and cooks quickly.
5. Burgers & Fries
Fries and hamburgers portrays as traditional foods of comfort that are appreciated by millions. People seeking a filling and well-known meal draws to the mix of a tender burger patty, tasty condiments, and golden fries.
Different beef or organic patty forms, cheeses, and sauces are just a few of the items that may be used to create a unique burger. Because of their adaptability, burgers are a desirable option since they can be customized to suit one's tastes and nutritional needs.
With regard to burger ideas, chefs and food aficionados strive their creativity by developing fresh and distinctive flavor characteristics. Due to individual's constant search for the newest and most intriguing cuisine instances, this invention helps explain why burgers and fries remain so popular.
6. Peanut Butter Protein Bars
In the past few years, protein bars have become increasingly popular as a practical and transportable snack alternative, especially with those who are mindful of their health or lead lives that are physically demanding. In particular, peanut butter protein bars are popular because they offer a balance of protein and good fats that are helpful for hunger and repair of muscles.
The flavor of peanut butter is adored and generally preferred. Since many people enjoy its tasty and creamy flavor, peanut butter protein bars are an appealing selection for individuals looking for a pleasant and filling treat. It is very practical as a snack to eat when traveling. Because they are frequently packaged, they are simple to transport and eat during hectic days, exercises, or trips.
7. Sweet Potatoes
Because they are a wholesome and adaptable cuisine, sweet potatoes are becoming more and more well-liked. The popular food's nutritional content, adaptability, and wellness advantages are a few of its motivating factors.
Many individuals with health goals believe sweet potatoes to be a nutrient-dense option. Compared to conventional potatoes, they have a glycemic index that is smaller, which implies that the levels of sugar in the blood are raised more gradually. They are appropriate for people controlling diabetes or adhering to a low-sugar regimen because of this characteristic. Vitamins A and C, minerals, and fiber are abundant in sweet potatoes. They are also an excellent source of antioxidants and potassium.
Sweet potatoes are an important component in many recipes since they may be cooked in a variety of ways. They are flexible and may be roasted, steamed or mashed, boiled, or even used in desserts. Their sweet flavor may enhance nutritious and sugary meals, giving recipes a distinctive flavor.
8. Stuffed Salmon
A unique take on a well-liked seafood meal is fish that has been stuffed. It offers a distinctive and individualized dining experience by allowing for a choice of toppings and tastes. For foodies looking for novel and intriguing foods, the mix of different flavors and textures might be a tempting choice.
Salmon stuffing may be changed to accommodate various nutritional requirements and flavor characteristics. A variety of ingredients, including spinach, dairy products, crab meat, quinoa, and even fruits, can be used to load it. Due to its adaptability, it may be used to satisfy a variety of dietary demands, including gluten-free, low-carb, and ketogenic diets.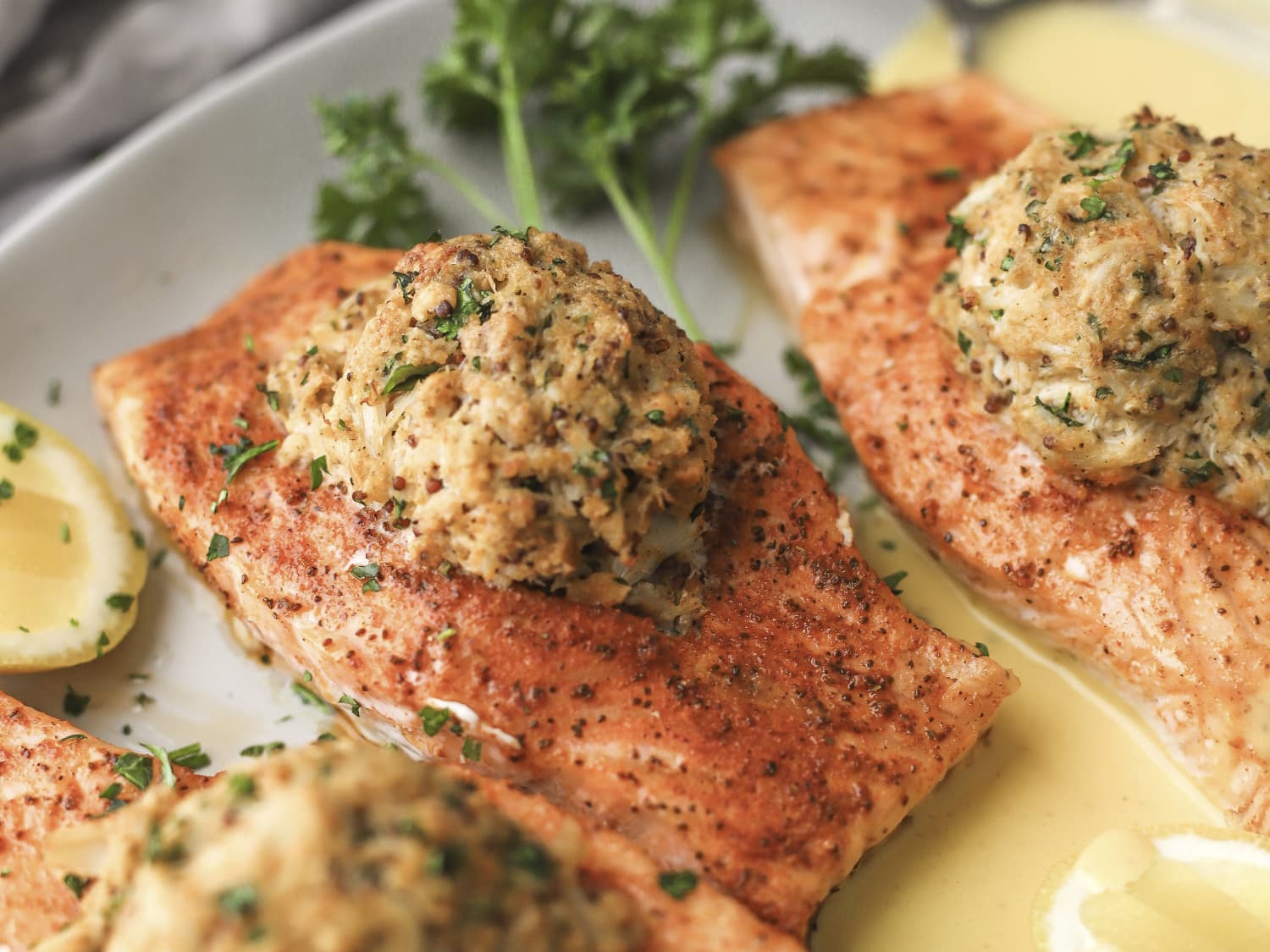 9. Chili
Chili is frequently thought of being cozy and comforting. It is a well-liked option, especially during wintertime or when looking for a soothing supper, due to its substantial and delicious character. A sensation of familiarity and reminiscence may be created through the blending of tastes, herbs and spices, and mouthfeel.
There are several ways to make chili, which allows for a huge variety of tastes and additives. There are countless ways to personalize the meal, including vegetarian and vegan options in addition to the conventional meat-based chili. Chili is a flexible and accessible option since it caters to those with a range of food choices or constraints.
10. Roasted Vegetables
Vegetables that have been roasted are frequently linked to a well-rounded diet. They are a healthy option since they are full of nutritional fiber, important vitamins, and minerals. Vegetables may be taste-enhanced without using a lot of oil or spice by roasting them, which draws out their own inherent flavors and begins to caramelize their carbohydrates.
Vegetable roasting encourages exploration and originality in the kitchen. To make a dish that is vibrant and savory, different veggies can be roasted either separately or in combination. Vegetables like carrots, brussels sprouts, cauliflower, and potatoes taste deliciously caramelized when they are roasted because it brings out their inherent delicacy. Those looking for meals that are lively and pleasing to the eye will enjoy this selection.
Many popular recipes offer wholesome and well-balanced alternatives that support healthy lives. Foods that are filled with nutrients components, accommodate dietary needs, or have special benefits for health frequently attract interest. The main secret to eating tasty meals while feeding your body the proper meats, veggies, and carbohydrates to ensure that you are taking excellent care of your body to live a long, healthy life is to use these various and very economical dishes.